Robux is one of the two types of currency on Roblox. It is harder to get than Tix as you need to buy a Builder's Club membership to earn daily Robux or to buy Robux on the Builder's Club page of the site. You can purchase Robux on iOS devices as well.
Currency Trading
Edit
Currency Trading is a page in the submenu of the site. To access it, go to the "Trade" page in the submenu and click the tab "Trade Currency". Beginners to currency trading should use "Market Order" because you can lose money on "Limit
Order". Currency Trading is a common way to recieve Robux if you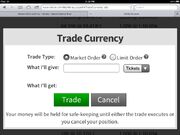 make tickets off of your game. 1 Robux is equaled to 10 Tix. Keep that in mind when trading.
What to use Robux On
Edit
Robux is the most commonly used currency to purchase items in the catalog. Expensive items may require saving for long periods of time and which this depends on your daily income of Tix and Robux. Without a daily income of Robux, it will take even longer to purchase items.